With the conclusion of the 2014 NCAA College World Series, it's time to take a look at some of the most dominating men's baseball and women's softball pitchers from the season. These fine men and women have excelled in both performance and leadership. Each and everyone one of these athletes have shown they are ready to advance and succeed at the next level. Here is a look at the 8 most dominating pitchers for the 2014 season..
Men's Baseball
1. Ben Wetzler (Sr. – Oregon State) – In his four years at Oregon State, Wetzler compiled a career record of 36-7. His senior year was his best as he led the nation in ERA at 0.78 with a record of 12-1. Wetzler started off the 2014 season with an 11 game suspension due to some NCAA violations related to his 2013 draft experience. He then led his Oregon ducks to a fine 45-14 record. Despite his great career numbers, Wetzler was only drafted in the 9th round by the Miami Marlins.
2. Sean Newcomb (Jr. – Hartford) – After two mediocre years, Newcomb certainly came to life in 2014 posting a record of 8-2 with an ERA of 1.25. He ended up the season ranked 2nd in the nation in "Strikeouts Per Nine Innings". With a fastball that consistently hits 94-95 on the radar (sometimes hitting the 100 MPH mark), Newcomb was selected as the 15th overall pick by the Los Angeles Angels.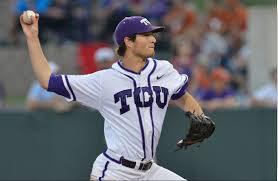 3. Preston Morrison (Jr. – TCU) – After an amazing junior season, Morrison was name Big-12 Pitcher of the Year and a 2nd team All-American. He finished the year with a 9-4 record and a 1.32 ERA. He also ended up ranked 3rd in all of college baseball for innings pitched with 129 1/3. Even though he has a career record of 25-9 and an ERA of 1.62, he was completely overlooked in the 2014 draft.
4. Aaron Nola (Jr. – LSU) – LSU entered the season with high expectations to compete for a National championship due to Nola's arm. He certainly did his part. For the second season in a row, Nola stymied NCAA hitters while compiling a 11-1 season with a 1.47 ERA. He was ranked 3rd in the NCAA in strikeouts with 134. For the last two seasons, he has gone 23-2 with a 1.49 ERA. Nola is a 2-time All-American and should be able to amass wins at the next level. He was drafted by the Philadelphia Phillies with the 7th overall pick.
Women's Softball
1. Hannah Campbell (Sr. – South Alabama) – After a promising junior season,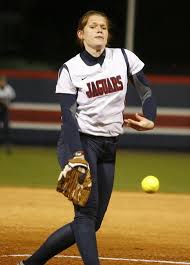 Campbell used that experience and exploded on the scene in her senior year. She compiled an excellent 18-6 record from 25 starts while finishing 2nd in Division I with a 0.95 ERA. Her control was amazing as she also finished with the 5th best "Walks per Nine Innings". She was a big part of an incredible South Alabama pitching staff that led the nation in ERA at 1.29.
2. Lacey Waldrop (Jr. – Florida State} – Waldrop turned a solid 2013 foundation set into an All-American season in this, just her junior year. She dominated from beginning to end, finishing 1st in Division I in victories (38) and 3rd in ERA (1.13). Watch out for this amazing talent next year. With 81 wins already in the bank, Waldrop will be looking to make an assault on Florida State's record book next season.
3. Aimee Creger (Sr. – Tulsa) – In 2014, Creger proved to be un-hitable and nearly unbeatable. She amassed 354 Ks in only 215 innings while compiling a record of 29-2. She led all of college softball in strikeouts and was third in shutouts with 13. Creger finishes her career at Tulsa with a 96-18 win/loss record, an ERA of 1.40 and 1,079 strikeouts.
4. Farish Beard (Jr. – South Alabama) – As the other part of South Alabama's two-headed pitching monster, Beard finished the season with a 22-7 record and an ERA of 1.23, good enough to be ranked #6 in women's softball. She also recorded 224 strikeouts. She finished the season ranked 5th in "Hits Allowed per Seven Innings". She now has a strong foundation and her win total should increase next year due to Campbell's graduation.
Summary
Article Name
8 Pitchers Dominating the NCAA
Description
It is not very often that the NCAA's top pitchers all come from teams that did not win a National championship. That fact is a testament to the amazing talent that exists throughout all of college baseball/softball. All of these athletes figure to land somewhere on a professional team in the years to come.
Author